Black teen pleads guilty to to kidnapping, carjacking - locking black woman, 89, in trunk for two days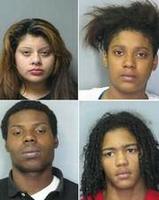 One of two teenage girls charged with forcing

an elderly woman, Margaret. E. Smith

, into a car's trunk and caging her there for nearly two days has pleaded guilty to three felony crimes. Junia McDonald, 15, of Milford pleaded guilty to first-degree carjacking, first-degree kidnapping and second-degree conspiracy to commit a felony, court records show. Prosecutors dropped a robbery charge and two other conspiracy counts as she entered the guilty pleas. A judge deferred sentencing her until September. McDonald and another young defendant, Jackeline Perez, 17, of Milford, were charged with kidnapping Smith after the now 90-year-old woman gave them a ride from a Milford convenience store around noon on March 18, 2013. Although Smith willingly let them in the car at first, police said, both girls allegedly stole her keys and shoved her into the trunk of her Buick, then commandeered the car for themselves. Two male defendants already have been found guilty of crimes for their roles in Smith's ordeal. Phillip L. Brewer, 18, of Bridgeville pleaded guilty to several counts early on and agreed to testify against his co-defendants. Another man, Rondaiges Harper, 18, of Bridgeville pleaded not guilty but was convicted of kidnapping, carjacking, and two counts of conspiracy by a jury after a trial this summer. He was sentenced to 30 years in prison on July 25, and is appealing the sentence.