(Heartless black) Fero's Bar killer Dexter Lewis, spared the death penalty, sentenced 5 life terms plus 180 years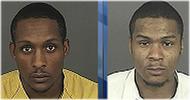 DENVER - Dexter Lewis, the killer convicted of

stabbing 5 people to death

in Fero's Bar during 2012, was sentenced to five life sentences plus another 180 years on Wednesday. Lewis was convicted on Aug. 10 of five counts of first degree murder after deliberation, five counts of felony murder, five county of attempted robbery and an arson charge. However, the jury decided that aggravating factors, including an abusive childhood, were significant enough that he should not face the death penalty. Because Lewis was found guilty in a death penalty case, Colorado law dictated that Lewis be sentenced to life in prison without the possibility of parole on the counts of murder. The judge sentenced him to five life sentences, to be served consecutively, for the murders. The judge gave Lewis an additional 180 years on the other charges. That was the maximum sentenced allowed. This was the second case of the summer where a jury was unable or unwilling to reach the required unanimous decision that would sentence a killer to die.





Prosecutors said Lewis led a four-man robbery crew at Fero's Bar and Grill. He killed the bar's owner and four customers. The robbery netted a measly total of $170. Two of the men at the robbery testified that Lewis, 25, went down a line stabbing his victims while they were held at gunpoint. "He simply went down the line, not caring about them, not showing any of them any mercy," prosecutor Matt Wenig told jurors when they began considering execution for Lewis. The bar was set ablaze before the men fled. Killed in the robbery were the bar's owner, Young Suk Fero, 53, and four customers - Daria M. Pohl, 21, of Denver; Kellene Fallon, 44, of Denver; Ross Richter, 29, of Overland Park, Kansas; and Tereasa Beesley, 45, of Denver. - (Black-on-white)