Seven indicted by Colorado grand jury in child sex trafficking ring bust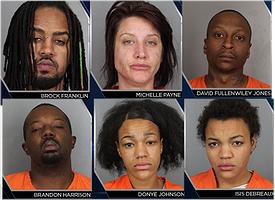 DENVER — A Colorado grand jury has indicted seven people who are accused of running a

child sex trafficking

ring in the Denver metro area. The group is accused of recruiting

three juvenile girls and at least one woman,

and forcing them into prostitution, renting them for sex acts out of Denver-area hotel rooms. The ring is indicted on 59 counts, which include kidnapping, keeping a place of child prostitution, pimping of a child, soliciting for child prostitution and assault with a deadly weapon, among others. Ring members are accused of violating the Colorado Organized Crime Control Act, keeping money made from pimping the victims, giving the victims drugs such as marijuana and ecstasy, and also beating and sexually assaulting the victims. Brock Franklin, Michelle Payne, Isis Debreaux, Donye Johnson, David Fullenwiley Jones, Brandon Garrison and Ralph Jones were listed in the indictment, with 29-year-old Franklin listed as the ringleader.