Attempted homicide charges against alleged kidnappers bound for court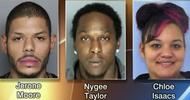 WILKES-BARRE TWP. — Dayna Williams offered grisly testimony Thursday against the two men who allegedly slashed her throat and left her in the Bear Creek Township woods in October. Magisterial Judge Michael Dotzel bound all charges against Jerone Moore, 32, and Nygee Taylor, 25, including kidnapping and attempted homicide, over to the Luzerne County Court of Common Pleas following a two-hour joint preliminary hearing. The third suspect in the case, Chloe Isaacs, 21, waived her hearing, sending her charges, including kidnapping and simple assault, to county court.
According to police, troopers got a report about a "naked and bloody female" wandering a road in Bear Creek Township on Oct. 5. Williams, 22, had suffered a 3-inch laceration from her trachea to her ear, police said. During her testimony, Williams pulled her hair back to reveal a scar on her neck to the judge.
Williams said she had known Moore two days before the incident. They met at Public Square in Wilkes-Barre and she offered to let him to stay with her in Pittston, where she lives with her mother. She had a few beers at a get-together with Moore and Isaacs on Oct. 4, and there was an argument about a missing cellphone, which the victim denied taking.




Williams said she would have never thought a missing cellphone would lead to this. "I don't know if they didn't believe I didn't take (the cellphone) or if they just wanted to have fun and do what they wanted to do," she said. "I don't know." The next day, Isaacs came to Williams' apartment in Pittston and picked up her and Moore. They drove to 58 N. Hancock St. in Wilkes-Barre, where Isaacs and the father of her children, Taylor, lived. Several women, including Isaacs, stripped Williams of her clothes and took her prenoscription Xanax pills and identification. The woman forced Williams to her knees and took turns punching her in the face before one of them put a cigarette out on her neck. Williams' hands were bound with wire and a garbage bag with a hole for her head was fitted over her. She wasn't sure who put her in a barrel, where she spent about four hours, but said Moore opened the lid at some point to make her drink a soda cap full of liquid and crushed pills, which she believed were her own Xanax.

Williams said Moore and Taylor later carried her to a car, lifted her out of the barrel and into the trunk and drove to Aleeda Road in Bear Creek Township, she said. When they took her out of the trunk, they made her march forward, telling her not to look back at either of them. They forced her to her knees and she blocked the first attempt to slash her throat, getting her finger cut. "You got to go deeper," she heard one of the men say. Then, the man ran the blade across her neck, and the assailants left her in the woods as they fled the area, she said. - (Black-on-white)