5 Hispanics arrested for stealing from California wildfire evacuees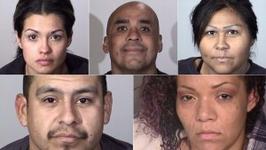 OXNARD, Calif. – Five people were arrested after allegedly burglarizing vehicles of residents who stayed in Oxnard after leaving their homes during the Thomas Fire, police said. About $75,000 worth of property was taken, Oxnard police estimated. About $10,000 in charges were made on a credit card, leading police to the suspects, authorities said. Officers responded to a disturbance at the Channel Islands Inn five days later and served a search warrant on a room, where they found three suspects.

Jasmine Zavala, 29, Maryann Zuniga, 29, and Juan Carillo, 44

, were arrested in connection with the crimes. Another suspect, David Rosales, 28, was arrested on Dec. 18 on suspicion of unrelated charges and was allegedly in possession of property belonging to the victims of the vehicle burglaries, police said. Rosales' Camrillo home was searched and more stolen property was found there, police said. Lisette Topete, 28, was also arrested on suspicion of receiving stolen property, possession of stolen credit cards and drug-related charges.