3 arrested on pimping, pandering charges of teen in San Bernardino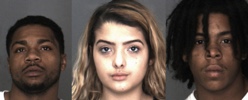 During a motel operation Tuesday, Feb. 6, investigators from the San Bernardino County Human Trafficking Task Force uncovered a pimping and pandering operation. Two unidentified females were contacted by investigators and provided with help at the motel on the 200 block of Hospitality Lane in San Bernardino. Four people were detained at the scene, believed to be a part of human trafficking, and transferred to the San Bernardino Police Station.

After interviews and more investigation, three of the four, from Modesto, were arrested and booked at the Central Detention Center. Both Denzel Freeman, 21, and William Sisco, 22, were arrested for felony violations of pimping and pandering. An 18-year-old female, Halen Hale, was also involved in the pandering of one of the victims. That victim was provided with services, and resources through The Open Door Program, which helps victims of human trafficking, domestic violence and abuse in San Bernardino County.