COWARDLY KUR - EVIL NIGGER ANIMAL (with African name) gets free room and board and other amenities for life in prison for stabbing elderly White Urbandale homeowner who died months later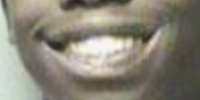 Robert Howe's great-granddaughter still has nightmares about the day he was stabbed.

The girl, then 8,

remembers walking downstairs to find what soon became a crime scene in her elder's Urbandale home — a place she loved and considered safe. She could hardly breathe, crying nonstop with her 5-year-old sister. "There was blood everywhere," Kadyn, wearing a pink bow, said softly in a Polk County courtroom. "I don't know why the bad guy had to ruin our lives." The child took the stand in front of Magai Anai Kur, 20, before he was sentenced Wednesday to life in prison without the possibility of parole. He was convicted of murder, robbery and burglary earlier this year in the stabbing of the girl's

77-year-old great-grandfather,

who died months after the September 2017 home invasion. Anai Kur attacked the innocent elderly man while he was asleep, he said. Howe's wife of nearly 60 years, Marilyn Howe, said she wished she could sentence Anai Kur to feel the pain her husband experienced. And when Anai Kur would want to die, "have it start all over again," she said.

For Howe's daughter, Mindy Blasberg, it was hell watching her father suffer, trying to recover for four months and five days, was hell. She has cried every day since the attack. "He may not be suffering anymore, but I sure am," Blasberg said.

Robert Howe awoke that day to Anai Kur on top of him, choking him and demanding money, police said. Howe tried to fight back, but Anai Kur stabbed him twice in the right side of his chest, puncturing a lung, authorities said.