PACK OF BLACK AFRICAN NEGRO MIGRANTS 'ENRICH' IDAHO WITH GANG-RAPING DIVERSITY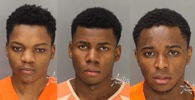 SEND THESE SAVAGES BACK TO THEIR DARK CONTINENT - SEND THEM ALL BACK!
Isn't it 'civilized' that they 'took turns'???
Because the fourth suspect is a juvenile, his name has not been released, and he did not appear in court with the other defendants. According to the prosecutor, the 18-year-old woman and Iyombelo made contact over social media and agreed to meet up in a Kuna neighborhood Feb. 7. The two agreed to hang out, but sex was not discussed, he said. "The victim believed she was meeting only one individual, your Honor," the prosecutor said. "The victim arrived at the location and observed four males, not just one. She stated to law enforcement that she was initially apprehensive upon arriving, but stayed." Iyombelo and the 16-year-old got into the victim's car, and the woman and Iyombelo began having consensual sex, the prosecutor said. But after the sex began, the woman told Iyombelo to stop, she told police.

According to the prosecutor, Iyombelo later admitted to detectives that the woman said no three times, but he kept having sex with her. The other three defendants then took turns raping the victim, the prosecutor said. The prosecutor asked Lupango, Mulanga and Iyombelo to each be held on a $250,000 bond, arguing that the men have limited ties to the Boise area. All three suspects are refugees from Tanzania, according to their public defender; Mulanga has been in Boise for six months, while Lupango and Iyombelo have been in the area for three years. During their hearing, the suspects denied raping the woman, saying through a translator that they did not commit the crime they are accused of.