(black) U.S. attorney's aide accused of helping black gang member son find snitches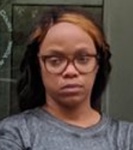 A paralegal in the New Jersey U. S. Attorney's Office is accused of using government equipment to try to identify and expose snitches for her Bloods gang member son, according to federal prosecutors.

Tawanna Hilliard, 44, pleaded not guilty Tuesday to charges of obtaining information from government and protected computers, conspiracy to tamper with a witness, tampering with a witness, conspiracy to obstruct justice, conspiracy to harass a witness and harassment of a witness, according to a spokesman for the U.S. Attorney's Office for the Eastern District of New York.

Her son, Tyquan Hilliard, who is a member of the 5-9 Brims set of the Bloods gang and serving ten years in prison for robbery in New York, faces the same charges, according to an indictment filed in Brooklyn federal court.

Tawanna Hilliard, who lives in Brooklyn, was working in the federal office in Newark when she "used her DOJ-issued equipment to conduct computer searches to determine whether certain individuals were cooperating with law enforcement" in 2016, according to court documents.

She was trying to help a high-ranking 5-9 Brims member, identified in court documents as Brim-1, find out if two other gang members had provided information to law enforcement.

Brim-1 suspected the two other gang members were federal defendants and had snitched, but Tawanna ended up finding neither of them had active federal cases, which she "described as a 'red flag,'" court documents said.

Tyquan Hilliard, who at the time was serving six years for possession of a loaded firearm, was in a dispute with Brim-1 and "expressed irritation" that his mother had tried to help Brim-1 out, the documents said.