ICE lodged detainer on (ILLEGAL CRIMINAL BLACK ALIEN FROM NIGERIA) rideshare driver accused of rape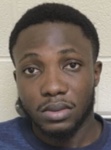 BETHESDA, Md. (FOX 5 DC) - Earlier this month, U.S. Immigration and Customs Enforcement (ICE) officers say they lodged a detainer on a rideshare driver accused of rape in Montgomery County.

Police say on August 24 at around 11:46 p.m., officers responded to the 6900 block of Clarendon Road in Bethesda after receiving reports of a woman crying in the middle of the roadway.
When they arrived, the 28-year-old woman told police she had been raped.

A preliminary investigation revealed the woman had been at a bar in Silver Spring earlier when she says she began to feel nauseous.

Police say the woman told detectives Oluwakayode Adewole Adebusuyi, 26, of Fairfax, Virginia, was at the bar at the time and offered to let her sleep in his car. The two share a mutual friend, according to the woman.
After accepting Adebusuyi's offer, the woman says she woke up when the man entered his car and began to rape her.

Police say after the rape, Adebusuyi drove his car out of the area with the woman still inside. The woman asked Adebusuyi to let her out of his car, but she told police he refused. Eventually, the woman was able to get out of the car while it was on Clarendon Road.

The woman screamed for help once she was outside of Adebusuyi's car, police say. That's when Adebusuyi fled the scene.


Residents nearby heard the woman's cries for help and called the police.

On Aug. 31, Adebusuyi was arrested in Fairfax and charged with rape, assault and false imprisonment.

According to a statement from ICE, officers lodged a detainer with the Montgomery County Detention Center on "unlawfully present Nigerian national Oluwakayode Adewole Adebusuyi" on Sept. 1.

Police say Adebusuyi has recently worked for various rideshare companies within the area.

Exactly one year ago, on August 24, 2018, one of Adebusuyi's rideshare passengers accused him of assault, sex offense, and false imprisonment. She reported it to police but then ended up declining to see it through to trial so the charges were dropped.