WARNING: Disgusting Degenerate News:
-

(Interracial LGBT-Queer-Faggot-Sodomite)

'couple' raped three teen boys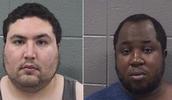 A married couple have been charged with sexually assaulting three teenage boys in their northwest suburban home. Anthony Wheeler, 25, and Christopher Wheeler, 30, of Prospect Heights, each face multiple counts of criminal sexual assault and aggravated criminal sexual abuse, authorities said. In Cook County court Thursday, where the couple made their first appearance on the charges, bond was set at $4 million for Christopher Wheeler and $3 million for Anthony Wheeler. Judge Joseph Cataldo took the highly unusual additional step of making them cash bonds, meaning the Wheelers would have to put up the entire bond amount — rather than the typical 10 percent — to be released from jail while they await trial. The three alleged victims are not related to the men, officials said.
According to allegations detailed in court by prosecutors Thursday, the men forced

a 15-year-old boy

to perform sexual acts with them on five occasions between June and July. On one occasion, authorities contend, Christopher Wheeler "told victim to go upstairs and threatened to beat him up if he did not do so," Assistant State's Attorney Maria McCarthy said. Prosecutors also allege that, on March 3 of this year, the defendants forced

a 14-year-old boy

to perform sex acts with them and that Christopher Wheeler told the boy, "What happens in the house stays in the house." The next morning, the boy's mother called police after seeing a text the boy received that referred to the alleged sex acts, authorities said.
Two days later, McCarthy said, Christopher Wheeler arranged for an Uber driver to pick up

a different 14-year-old boy

and bring him to the Wheelers' home, where they assaulted the boy, authorities said.
Authorities said the Wheelers have an adopted child and also

are foster parents to another child.