Woman discovers terrifying video of her sexual assault after a police officer didn't believe her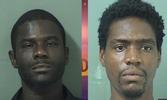 A woman claims that after she was kidnapped, beaten and drugged for 10 days, she stole one of her assailant's phones and saw a video of the men sexually assaulting her snoring, unconscious body. James Edgerton, 37, and Johnnie Tindell, 37, both of Riviera Beach, Fla., have been charged with kidnapping, false imprisonment, sexual battery on a physically incapacitated person and aggravated assault with a firearm, according to a recently released police report. Edgerton was arrested on May 9, and Tindell was arrested on June 19.
She was driving through a residential neighborhood in Riviera Beach when a man flagged her down, the report said. She stopped the car to speak with him. Another man came up to the passenger side window with a gun as she was talking to the first man. The two told her to give them her car, but then they got inside. They ordered her to drive to several places, including a bank to take out money, the report said. Then, they made her stop at an unknown residence in Riviera Beach. While there, she said, the men drugged her, and she didn't remember much of what happened afterward, the report said. The men kept her for about 10 days, the report said. She remembers being tied up, beaten and threatened at gunpoint. She also recalled the nickname of one of her kidnappers: "Monkey Boy." ... the men got scared and pulled into a driveway. That's when the woman jumped out of the vehicle, grabbed a phone belonging to one of the men — she believed it was Monkey Boy's phone — and ran away. She told police the men had taken her phone, money and identification, and the only thing she had was the man's phone. She said she wandered the streets and slept behind a building. A man eventually found her and gave her a ride to the hospital, where she was found to have a broken rib. At the hospital, she spoke to an unknown officer about what happened, but he didn't believe her, the report states. Over the next few days, she looked through the phone and came across the video of herself being sexually assaulted, the report said. In the hour-long video, she is completely unconscious and can be heard snoring. Two men assault her, and a third appears in the video, watching. They also assault her with objects and put their genitals on her face. The woman has no recollection of any of this, according to the report. She brought the phone to the Riviera Police Department, where an officer was able to identify the two men based on previous encounters with them, the report said.