BEN & JERRY: The ultimate far-left, self-hating Jews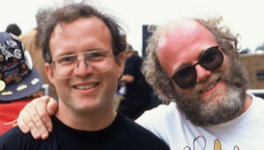 BEN & JERRY'S ICE CREAM, founded by two anti-Israel Jews, Ben Cohen and Jerry Greenfield, long known for their far left-leaning politics created a firestorm on Monday morning with its announcement that it would no longer sell ice cream in "Occupied Palestinian Territory."

Backlash Grows Against Ben & Jerry's; De Blasio Suggests He May Join Boycott Against Company
On Monday and Tuesday, kosher supermarkets announced they'd be dropping Ben & Jerry's ice cream from their freezers in solidarity with the Jewish state, including Gourmet Glatt of the 5 Towns, Shop Delight in Great Neck, Glatt Express in Teaneck, Seasons, Gourmet Glatt of Cedarhurst, Cedar Market in Teaneck, Aaron's in Queens, Moisha's Discount Supermarket in Midwood, Pomegranate in Midwood, Market Maven in Baltimore, Shalom Kosher in Silver Spring, and Grove Kosher in Florida.

The backlash against Ben & Jerry's extended beyond kosher stores: Morton Williams, a chain of 16 supermarkets in the New York City Metropolitan area, is severely cutting back its sales and marketing of the brand, Morton Williams co-owner Avi Kaner announced, tweeting, "Our supermarkets have taken action against Ben & Jerry's, which is boycotting Jewish communities that are at the center of a territorial dispute in Israel, including the Jewish Quarter of Jerusalem – inhabited by Jews for over 3,000 years."

Kaner added in a tweet, "Please try Häagen-Dazs ice cream – you'll love it!"

Avi Zinger, the CEO of Ben & Jerry's Israel, condemned the parent companies and pleaded that the counter-boycott not extend to the Ben & Jerry's ice cream in Israel.

Ben and Jerry's is a radical hate group Trigger Warning: If you have below average intelligence, if you are an emotional reasoner, if you think holding a woman accountable for her behavior is a form of domestic violence, and/or if you are a radical feminist, please be advised that this is a work of satire. And, no, satire does not have anything to do with Satan or satanic cults and the sexual abuse of children.

With all the hullaballoo over the SPLC 2011 "Intelligence" Report on emerging hate groups, we failed to notice that one of the most nefarious men's groups was omitted from the report: Ben Cohen and Jerry Greenfield, the purveyors of Ben and Jerry's ice cream. It boggles the mind how someone who calls himself Manboobz, the SPLC's very own Deep Throat, could have made such a glaring oversight. [1]

Are Ben and Jerry gay?